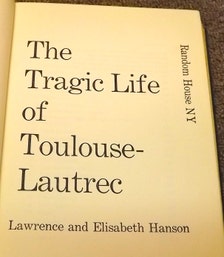 Why am I talking about a book on Henri Toulouse-Latrec on a Van Gogh blog? Well, the two knew each other, albeit briefly. I think Vincent's work was influenced by Toulouse-Latrec's work, although I'm not sure many art historians and critics would agree with me. Reading about Vincent's contemporaries helps not only flesh out the times that Vincent lived in, but also helps you appreciate what Vincent was comparing himself to.
Which brings us to
The Tragic Life of Toulouse-Latrec
(Random House; 1956) by
the husband and wife team of Lawrence and Elizabeth Hanson.
The couple also wrote biographies of Van Gogh and
Paul Gauguin
. I haven't read those and think I may skip them. This book was enough.
This is not a particularly detailed biography and suffers from some of the biographers' criticism of his private life. However, this is one of the shortest biographies out there. If you do not have a lot of time and know elementary French, then this book will be okay.
Although Vincent was considered freakish by the French because of his intensity, his penchant for pissing people off and his problems speaking French, Toulouse-Latrec drew horrified stares or quickly averted eyes. His parents were first cousins and boy, did it show in Toulouse-Latrec's dwarfish and incredibly fragile body. He wasn't a dwarf in that he did not suffer from dwarfism, but his legs broke when he was a child and he basically stopped growing then.
Sadly, this book has very few illustrations -- all of which are in black and white. Read it and Google
the works described.